Computer cleaning and maintenance: Cleaning your computer and your computer components and peripherals helps prolong the life of your computer. The picture below is an example image of how dirty the inside of your computer case can get. Depending on the environment that your computer operates in determines how often you should clean your computer case.
Owning a computer is similar to owning a vehicle. If you take care of your vehicle with preventative maintanance, it will get you to where you are going. If you maintain your computer with a regular maintenace schedule, it should give you many years of service. It can be hard to imagine that a dirty computer can run slow or even cause it to crash or lock up. It is true though, dirt can cause many problems with computers. Not only dirt and dust, but bacteria and germs can cause problems in the work environment as well.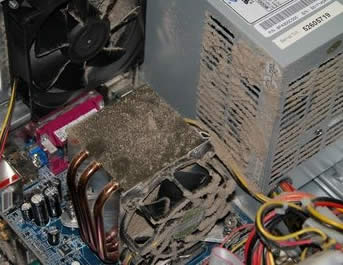 So tell me, How does dirt and dust effect my computer performance? Dust is like an insulator, it keeps all the heat from escaping. It is like putting a coat on your computer in the middle of summer. Heat can cause many problems with a computer. Heat will make the computer run slower, even crash or hang up. Heat has been know to cause most small glitches in computers. There are fans, vents and air intakes and exhaust vents in your computer for a purpose. But when dust gets caked on the inside of your computer these areas in turn prevent the flow of cool air into the computer and over critical heat sinks which keep components cool.

This will not immediately affect the computer but over time, like a vehicle, will cause damage and thus shorten the life expectancy of the computer.