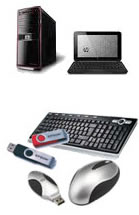 New and Used PC's: Here at Express PC, we provide both new and used computers at discount prices.
Purchasing used pc's allows you to save money and still own a quality computer without paying a premium price. We carry Sony, IBM, Dell, HP, ASUS, Gateway, Compaq, Emachine & Acer.
Accessories and Parts: we offer a full range of accessories and parts to fit all of your computer needs.
Rhyno Hyde
: Customize
your laptop, Apple iphone, ipad, Droid, or cell phone with custom colors and graphics by RHINO HYDE.